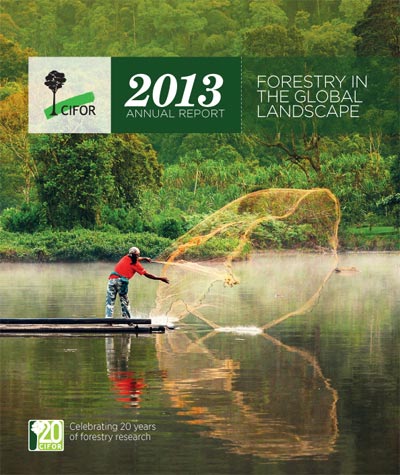 Center for International Forestry Research (CIFOR) Bogor, Indonesia
Authors: CIFOR
From forest user groups in Uganda to furniture makers in Indonesia to Brazil nut gatherers in Peru — CIFOR's research in 2013 continued to have positive outcomes and impacts on the lives of forest-dependent people around the world.
In this year's CIFOR Annual Report, we showcase how our research puts tropical forests on the map, with a mixture of interactive stories from large to small – a celebration of the multifaceted research that we and our partners are proud to conduct. Read our online mobile-responsive edition or download the PDF.
Featured stories
Improving people's livelihoods …
Action research in Indonesia helped artisanal furniture-makers to improve their production, marketing skills, sales and profits, and now a strategic action plan for the industry is being passed into local law.
Promoting gender equity …
Through training in Adaptive Collaborative Management, women in Uganda increased their involvement and leadership in forest user groups — and both men and women are reaping the benefits.
Influencing policy …
In Ecuador, CIFOR research showed the government why smallholder farmers and indigenous communities prefer to operate outside legal norms when selling their timber, with the information contributing to a shift in perspectives on forest governance.
Helping tackle global issues …
Research by CIFOR scientists and associates contributed to global policy and the world's knowledge on greenhouse gas emissions from wetlands, with CIFOR scientists among the lead authors of the new IPCC Wetlands Supplement and CIFOR research cited throughout.
Bringing people together …
The inaugural Global Landscapes Forum in Warsaw, held alongside the UN climate talks, attracted more than 1200 people to discuss how a landscapes approach to land management can address global problems such as food insecurity, climate change and poverty.